Wheathampstead Heritage: Virtual Museum Exhibit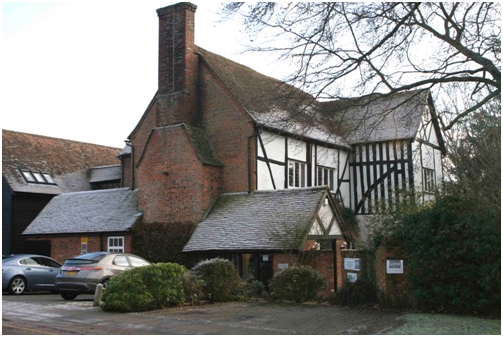 Main Description:
Click to expand/contract
The best viewpoint for this building is from Mount Road, just round the corner from the Tudor Archway.

This house was originally a medieval hall house dating from about 1480. The elaborate timbering points to the wealth of the owners. It formerly had cross-wings at each end but only the one at the southern end of the building survives. At some point plaster was applied to the external walls, grooved so as to resemble stone, but this was blown off when a small bomb fell in the churchyard during the Second World War.

Wheathampstead Place may have been the site of the original rectory; the rector was lord of the manor. From the late 1500s until at least 1670 it was home to members of the Brocket family. In the early 19th century it was owned by Lord Melbourne, Queen Victoria's first prime minister. William Beach Thomas, who wrote several books that include descriptions of wildlife round the village, bought the house in 1923.

Murphy Chemicals Ltd had their offices here from 1931 to 1983. Their premises extended over a large area behind the house and, at its peak, the company employed some 300 people. The entire site had to be decontaminated before it could be used for the housing that was built in 2001 and 2002.
The house reverted to being a private home in 2013. The present owners are carrying out a major restoration programme.

The bridleway that starts from Mount Road is part of the Lea Valley Walk and links to the Ayot Greenway. It also links with a footpath that provides a pleasant riverside walk to Waterend House (built in 1610, listed Grade II*) and on to Brocket Park and Lemsford.
In-depth Description:
Click to expand/contract
Additional Files:
Click to expand/contract
There are currently no additional files associated with this site
Date Created: 01/01/2012 01:01:01, by: Adam Date last edited: 11/03/2014 14:19:41, by: patrick