Wheathampstead Heritage: Virtual Museum Exhibit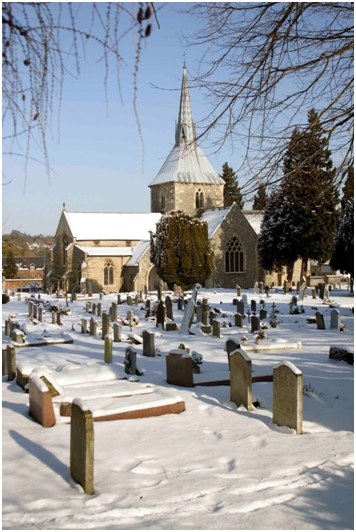 Main Description:
Click to expand/contract
St Helen's is the parish church of Wheathampstead. Originally a Saxon church, it fell into some disrepair and the present building was largely completed by the late 1300s. It is built of soft Totternhoe clunch with flint facings and limestone dressings.

The main shape of the building has not changed since that time although, at the instigation of the rector, Reverend Canon Davys, a major restoration was carried out in 1865. It is said that the bells are among the most difficult to ring in Hertfordshire.

The church contains a 14th century font and many interesting tombs and memorials to local families, including Hugh and Margaret Bostock, the parents of John of Wheathampstead who became 33rd Abbot of St Albans from 1420 to 1440 and again from 1451 to 1465. His tomb may be seen in St Albans Abbey.

There is a wealth of information about the church in the leaflets and booklets that can be found near the back of the nave.
In-depth Description:
Click to expand/contract
Additional Files:
Click to expand/contract
There are currently no additional files associated with this site
Date Created: 01/01/2012 01:01:01, by: Adam Date last edited: 13/12/2012 09:34:17, by: adam