Wheathampstead Heritage: Virtual Museum Exhibit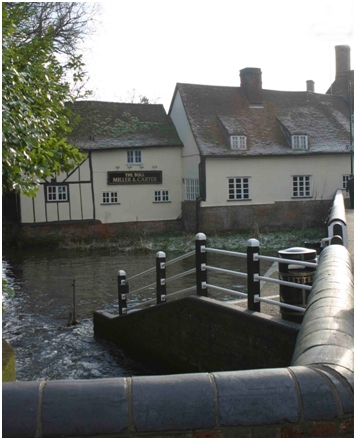 Main Description:
Click to expand/contract
The Lea at this point is shallow, fast flowing and high in nutrients. It flows 42 miles from Luton through Hertfordshire and north-east London, where it becomes the Lee Navigation, and discharges into the Thames at Bow Creek.
The river may derive its name from the Celtic 'lug' meaning 'bright'. The Irish or Gaelic spelling is 'lugh', hence Lughton, now Luton, where the Lea rises. Both the river and the town may have been named after Lugh the Shining One, the Celtic god of light and of the harvest. It is said that he drank from the source of the river and gave it its name.

Following a treaty between King Alfred the Great and Guthrum the Old in 886, the river formed part of the boundary between Saxon England (to the south of where you are standing) and the Danelaw (to the north).

The current road-bridge was first built in or before 1867, widened in 1895 and rebuilt in 1986.

At the north end of the bridge stands the village sign. This was erected in 2010 as part of the celebrations to mark the 950th anniversary of the deed by which Edward the Confessor granted Wheathampstead to the Abbey of Westminster.

The river is well stocked with fish, including barbel, roach and carp. You may be lucky enough to see a kingfisher or a grey wagtail, as well as the more common mallards.


In-depth Description:
Click to expand/contract
Additional Files:
Click to expand/contract
There are currently no additional files associated with this site
Date Created: 01/01/2012 01:01:01, by: Adam Date last edited: 25/02/2014 17:11:52, by: patrick